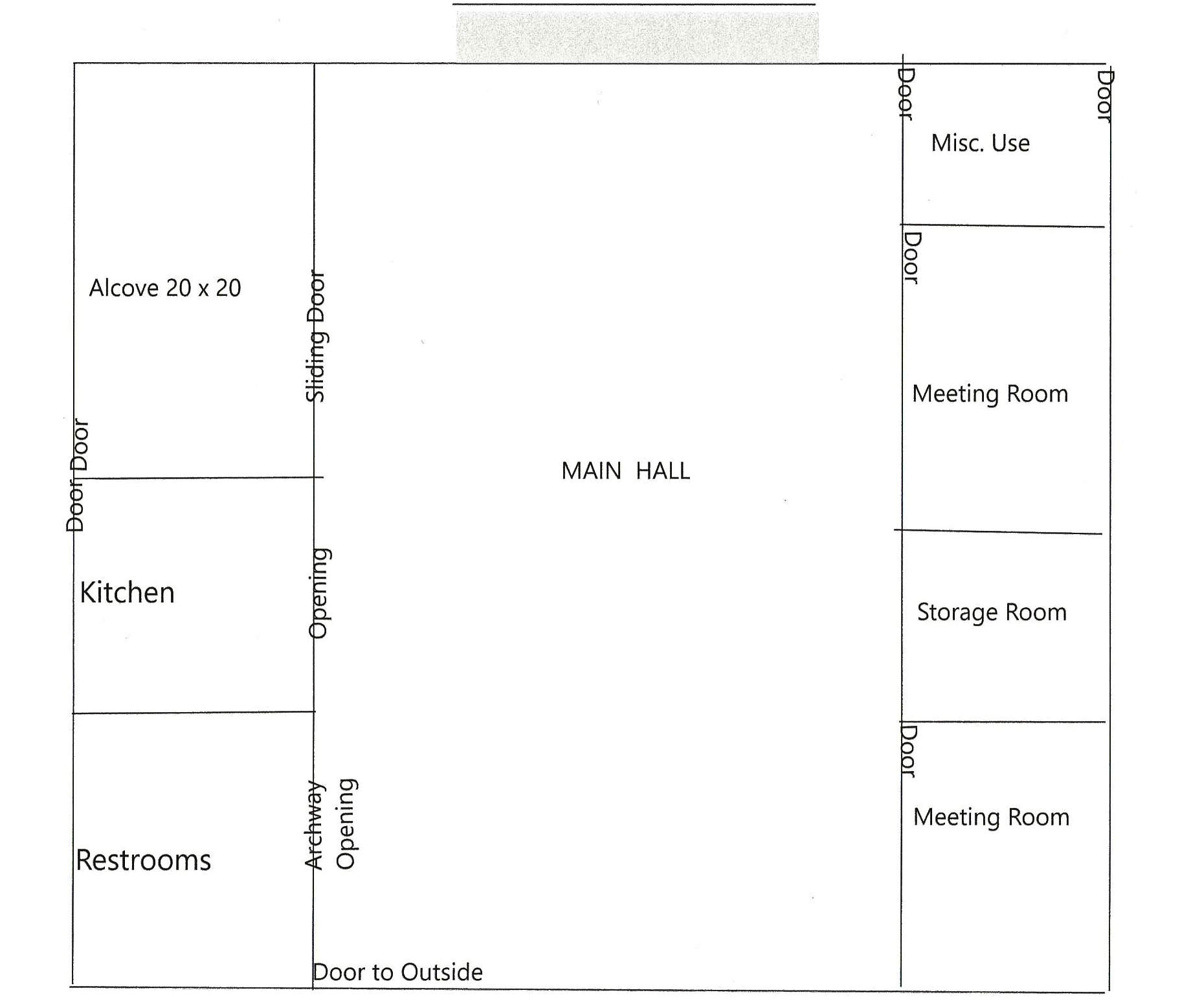 ALCOVE: Capacity approximately 30. Size 20 feet by 20 feet.
Adjacent to kitchen, laminated floor, folding tables/chairs are available for use.
---
MAIN HALL: Maximum capacity per Fire Code: 250 total occupancy. Room size is 40 ft by 60 ft. Laminated wood floors. Accoustical wall panels.
Banquet round: 25 table of 8 equals 200 people..Rectangular tables, facing one direction approximately 165 people.
Approximately 120 folding chairs, 20 rectangular 6 ft. long tables and two 8 ft. long tables are available for use by Center programs and building renters. Center tables and chairs may not be removed from the premises or used outside.
---
KITCHEN: Full kitchen and alcove adjacent-great for catering set up, potlucks, etc. Catering Service is available.
---
TWO MEETING ROOMS: 16 ft by 20 ft and 20 ft by 20 ft. Contain no permanent furniture, laminated flooring, folding tables and chairs are available for use.
Small groups, Bride's room and Groom's room in conjunction with rental of the main hall for weddings.
---
For all Rental information please contact 541-408-0256. During business hours Monday thru Friday from 9:00 a.m. til 5:00 p.m.
You may also complete a Booking Request form and mail it for a rental quote. Once you have accepted the quote, a rental contract will be provided to you. Receipt by PBCC of a signed rental contract and facility deposit is required to secure your date.

Mail contract/deposit to:
Powell Butte Community Center
P O Box 87
Powell Butte, Oregon 97753